Now this is getting really ridiculous!
January 2020
Sure it has been a long time, and so much has happened, but the disaster which is Portsea beach is the problem that just keeps on giving.
Sadly, all the money spent trying to back engineer the problem caused by more water in the Bay (from the combined effects of deepening the shipping channel through the Heads and Climate Change) was already in the multi millions years ago.
The State government Department of Environment, Land, Water and Planning has since stopped reporting how much taxpayers have forked out on this futile exercise. Portsea beach is closed again for Round XX of works. Rock and sandbag walls are set to get even bigger - with maybe a breakwater as well off shore- and there is less and less beach every time we look.
And it has spread west of the pier where that once pretty little beach was enjoyed for paddling, swimming and launching your kayak. Now it too has disappeared under another wall of rocks and  futile failing infrastructure. Then on into Pt. Nepean National Park the erosion goes, as beautiful one hundred year old Moonah trees fall into the sea.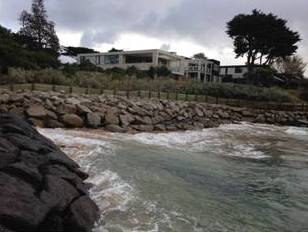 Looking west towards Heads from Portsea Pier. Massive rock wall installed in 2018 amouring a once pretty little beach .......which has disappeared as swell waves continue to pound the shore.
Yes, erosion is getting worse with climate change, but surely it was irresponsible to deliberately add to that risk by dredging deeper and deeper allowing more water and bigger waves to move into the Bay?
Suffice to say it is getting worse not better .....although another bucket of Millions of dollars is about to be spent yet again reinforcing the original mistake. Despite so much being spent on expert consultants reports, and so many futile attempts to fix the unfixable, DELWP and MPS Council say this time they know what to do.......hmmmmm. Contact us if you would like more details.
---