Candidates chew on Channel Deepening
Pre-election Channel Deepening forum 8th November 2006 7.30 PM at the Performance Theatre, Mornington Secondary College 1051 Nepean Highway Mornington - opposite Bunnings
Plans to proceed with channel deepening haven't been shelved by state government - it just looks that way. Although we are hearing very little about the project, government is still working behind the scenes for the project to ramp up again in 2007. So Blue Wedges is inviting all candidates for the Peninsula electorates of Nepean and Mornington to give us their views on channel deepening and their vision for the future of Port Phillip Bay and its environs.
"We could be badly affected by channel deepening: dirty beaches, reduced fish stocks, poor visibility for divers, fishermen and Bay species which rely on vision to feed such as dolphins, penguins and some fish and downturns in tourism revenue etc. so Peninsula residents should hear what all the candidates have to say about the project before making up their minds on how they will vote on November 25th. Our local economy, lifestyle and amenity could really suffer." says Blue Wedges spokesperson John Willis.
The Port has recently announced that although the Independent Panel recommended in 2005 that land based disposal of the toxic sediments from the Yarra bed should be considered, the Port's view is that it would be logistically too complex to treat and dispose of that volume of toxic spoil on land. The Port's plan is to proceed with their now outdated plan, and dump it in the Bay as originally proposed prior to the Independent Panel's assessment. "They are back to plans which are now around 5 years old – when the government first gave it's in principle support" says Blue Wedges spokesperson Jenny Warfe.
Liberal, ALP, Greens and People Power candidates from both Nepean and Mornington electorates will be in attendance.
Nepean electorate: Martin Dixon MP Liberal, Anne Marshall ALP candidate, Henry Kelsall Greens candidate, Peter Holloway People Power candidate.
Mornington Electorate: William Puls ALP candidate, David Morris Liberal candidate, Mark Fleming People Power candidate, Malcolm Jones Greens candidate
Hear them share their vision for the future of our Bay and the state government's channel deepening plans. Come along to Mornington Secondary College, Nepean Highway Mornington (Mel. Ref 104 J10 opposite Bunnings)
Wednesday 8th November at 7.30 PM. All Welcome.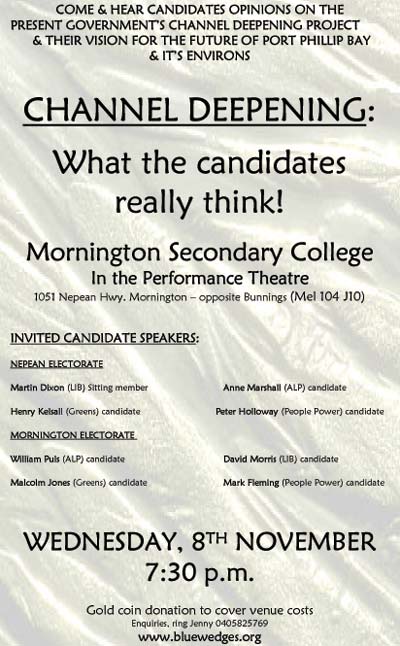 ---